PixoPoint Menu plugin
Published July 11th, 2009 under Plugins
It has been a long time coming, but we are pleased to announce that our new PixoPoint Menu plugin is finally ready for beta release. You can download it at the WordPress plugin repository.
Designing your menu
Unlike the Multi-level Navigation plugin, this new plugin does not require you to visit our dropdown menu CSS generator to modify the look and feel of it. You can redesign your entire menu from within your own site. When you click the "Reload" button in the plugins editing panel, the design specifications are sent back to PixoPoint.com where it is processed and then sent back to your own site where it displays in your menu. When you choose 'save', that design is stored on your site for your visitors to enjoy!
Theme support
This new plugin features automatic integration with some themes. If you install the plugin when used with Theme Hybrid, Thematic or Thesis you can simply choose the 'auto theme-support' checkbox and when you reload your site you will see the menu in action – no theme modifications necessary.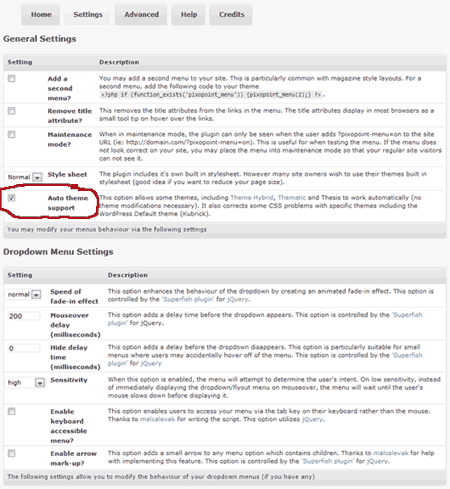 Drag n Drop menu contents
Unlike the selection boxes found in the Multi-level Navigation plugin, you can now move your menu contents around via a drag and drop interface. To save confusion in finding the settings for each menu item, you can now modify those options via a box activated by clicking a dropdown button on each menu item. Under the 'Advanced' tab you can also control the order of your WP pages as we have integrated the functionality of the My Page Order plugin by froman118.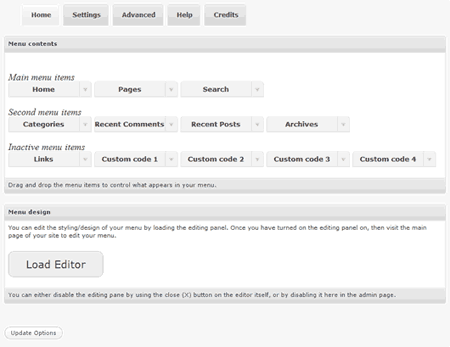 Demonstration/Download
You can see the menu in action on the Dunedin Ice Hockey Association website and it can be downloaded in the WordPress plugin repository.
Support
Please visit our support forum for help with the plugin. For paid support, please consider our Premium Support deal.