Simple CMS WordPress Plugin
Published March 14th, 2008 under Plugins
Note: Support for the Simple CMS WordPress plugin has been discontinued. If you are interested in having this product upgraded for the latest version of WordPress then please contact us for information about paid plugin development.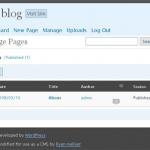 The Simple CMS WordPress plugin converts the WordPress blog tool into a basic CMS (Content Management System). Simple CMS removes all of the complicated blogging functionality which is not needed for a basic static website. This allows for easier use of the admin panel by non web designers.
Free Download
Simple CMS WordPress Plugin download
Please note that this plugin only works with WordPress 2.5 or above
Demonstration
Click here to see the admin panel in action
Username: test
Password: test
Note: The demo site is on an extremely slow server. The plugin will likely operate much faster and reliably on your own web host.
Installing
Simply upload the folder to your plugins directory, then head to the plugins page in your WordPress admin panel and activate the plugin.
If you are a "WordPress Administrator" you will not see any difference, but if you log in as a "WordPress Editor" or below, you will see a vastly simplified administration panel suitable for simple static websites.
To modify the items shown in the admin menu, go to the "Simple CMS" options page in the "Settings" menu.
Theming
To help with developing themes for static websites powered by WordPress, I've released the Simple CMS WordPress Theme (demo).
The plugin doesn't do anything exotic, the original code is still there, it is just hidden from view via CSS. Users will still be able to access the hidden areas of the admin panel if they know what they are doing.
Support
Visit the Simple CMS support board for help, advice or further information about the Simple CMS plugin.