New Hellish Simplicity WordPress Theme
Published November 30th, 2008 under Templates
Hellish Simplicity is a minimilistic two column design with a distinctive red, black and white design. It was created as the blog theme for https://ryan.hellyer.kiwi/ and by request was made available to the public as a free download and has now been added as one of the default themes to the PixoPoint template generator.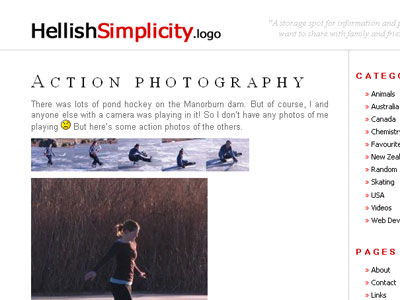 Download template as a WordPress theme
Download Hellish Simplicity Version 2.0 (link coming soon)
Modifying sidebar widths
The grey border which runs down the sidebars in Hellish Simplicity are created via the sidebars graphical background. If you change the widths of these sidebars, you should modify/create a new graphic to match the new width.
Copyright
This theme was not originally released as a truly open source theme. However it is now available with a BSD license.