Ice Edge WordPress Theme
Published May 10th, 2008 under Templates
Sorry, but there are better ways to do this now. This project has been deprecated and is no longer in development. This page will be kept online for archival purposes and in case anyone is still interested in the project despite being no longer maintained.
This theme has been used for the past year by my client Fresh Edge Hockey (previously freshedgehockey.com). The theme is designed for use with our Simple CMS WordPress Plugin. It is designed purely for use on static websites and is not suitable for blogs or sites which require sidebars.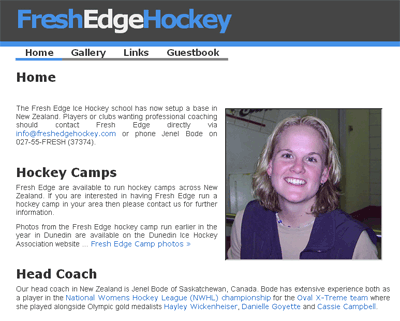 Demo
Download
Features
As with the Simple CMS theme, "Ice Edge" does not display comments, tags or categories. This theme is only designed to display WordPress Pages as part of a static website.
Support
Support for this theme is available in our themes support board.