Hellish Simplicity WordPress Theme
Published February 26th, 2008 under Templates
Continuing on from our Aqua Vaccinium WordPress theme, is the release of PixoPoint lead developer Ryan Hellyer's own personal blog theme. This theme was developed for use on ryan.hellyer.kiwi but by request has been made available to the public as a free download.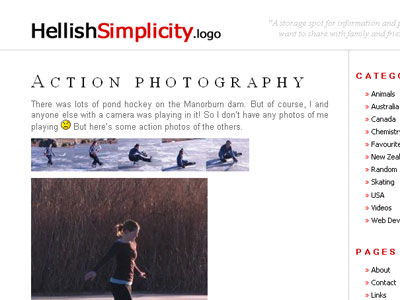 Download
Download Hellish Simplicity Version 1.3.1
If you are using WordPress 2.3.3 or older, you will need to download Download Hellish Simplicity Version 1.2.1 of the Hellish Simplicity WordPress Theme.
Features
Hellish Simplicity is widget ready and comes supplied with a PSD file to allow you to change the text in the header logo.
There is an options menu in the WordPress administration panel which gives allows you to toggle between blue and red versions of the theme. If you would like another colour combination then please leave let us know via our themes forum.
The options menu also allows you to choose to use a logo or plain text in your header.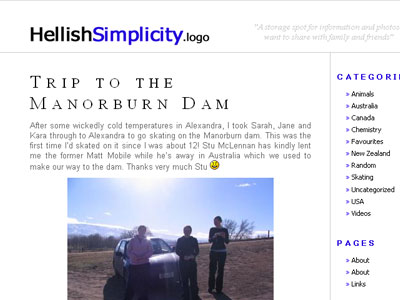 Live Demo
The theme is available for viewing on Ryan Hellyer's blog or you can see it in action on our WordPress theme demo site.
Support
We are no long providing support sorry.
Copyright
Note that although we are providing this theme for free, PixoPoint still retain the copyright to the design. You may modify it for your own needs, but you may not provide it to others. This theme is only available from ryan.hellyer.kiwi or geek.hellyer.kiwi and must not be downloaded from elsewhere.