JavaScript Edit
Sorry, but there are better ways to do this now. This project has been deprecated and is no longer in development. This page will be kept online for archival purposes and in case anyone is still interested in the project despite being no longer maintained.
This WordPress plugin allows users to add JavaScript via a WordPress admin page. This is ideal for use on WordPress multi-site networks where the site administrators require access to javascript.
Warning: Do not give users you do not trust access to raw JavaScript. Doing so is a major security risk for your site.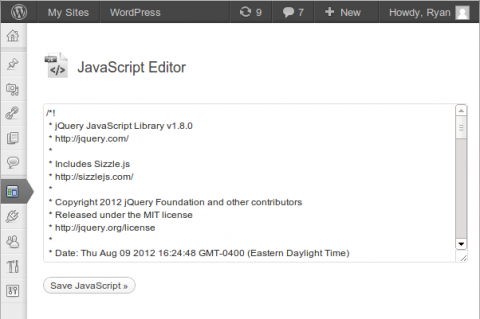 Installation
Simply install and activate the plugin.
The editing page for adding JavaScript can be found in the "Appearance" menu.
JavaScript will be added to the footer of the page.
Frequently Asked Questions
Or at least, the questions that should be frequently asked
Q. Where is the JavaScript loaded? A. The footer.
Q. Can I make this only available for Super Admins? A. Not yet, I'll be adding a filter to control that soon though – let me know if I forget (which is entirely likely to happen as I have a goldfish like memory)
Q. Is it safe to allow untrusted users to edit raw JavaScript? A. Hell no!
The creation of this plugin was sponsored by the Norwegian Government Administration Services (G.A.S.) and Metronet.