Customizer Link
Sorry, but there are better ways to do this now. This project has been deprecated and is no longer in development. This page will be kept online for archival purposes and in case anyone is still interested in the project despite being no longer maintained.
Note: This functionality has been rolled into the core of WordPress 3.6. This plugin should be uninstalled as it no longer serves any purpose.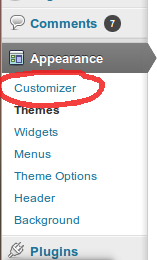 The "Customizer link" plugin for WordPress was created in part for the Norwegian government and also as the basis for a Trac ticket for WordPress core.
The plugin adds a "Customizer" link to the "Appearance" menu in WordPress. This is useful for providing a convenient place for your site admins to edit the design without having to navigate via the themes page.
The creation of this plugin was sponsored by the Norwegian Government Administration Services (G.A.S.) and Metronet.