New Aqua Vaccinium WordPress theme
Published November 30th, 2008 under Templates
The Aqua Vaccinium template features a smooth blue and green design and has a prominent dropdown menu built in (no plugin needed). The template was originally released as a standalone theme, but has been incorporated as one of the standard templates in the PixoPoint Template Generator.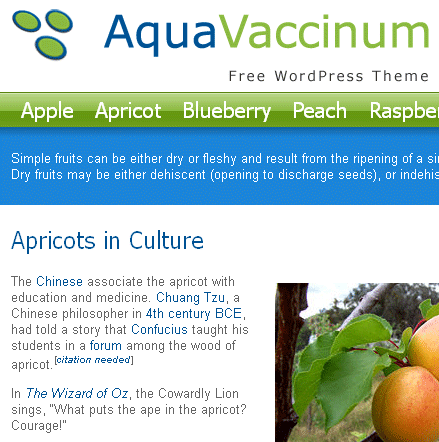 Download template as a WordPress theme
Download Aqua Vaccinium WordPress theme
The big blue bar
The blue section (below the main menu) is controlled via the 'Main menu shadow' section in the 'Main Menu' box in the template generator control panel.
If you require any (paid) customisations specific to your site, please get in touch via our contact form.
Naming
The word Aqua came from the mixture of the blue and green tones of the design. The name Vaccinium is the genus for a variety of berries including blue berries which we baked a pie for in honour of the new theme.